へんぽらい日記 - キャラメルシュガーGlaze PopⓇの説明より
苦手な英語を理解すべく、Yahoo!翻訳にかけてみました。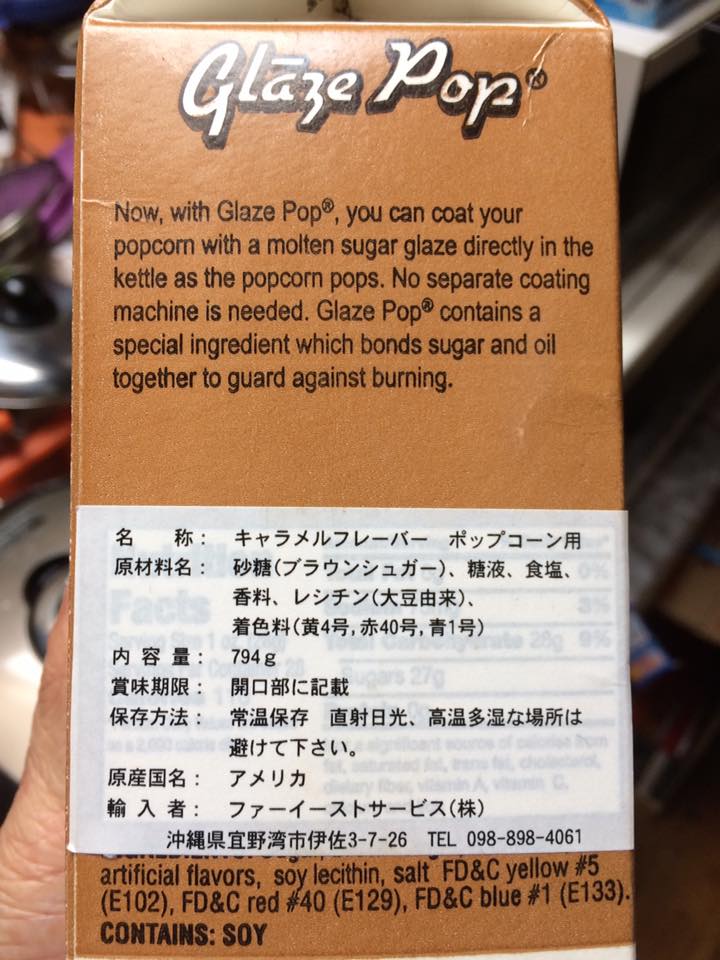 Now, with Glaze Pop®, you can coat your popcorn with a molten sugar glaze directly in the kettle as the popcorn pops. No separate coating machine is needed. Glaze Pop® contains a special ingredient which bonds sugar and oil together to guard against burning.
現在、ポップコーンがポンと鳴って、Glaze Pop®で、あなたはヤカンで直接ポップコーンを融解した砂糖上塗りで被覆することができます。
別々の塗工機が必要でありません。
Glaze Pop®は、火災を警戒するために一緒に砂糖と油を結合する特別な成分を含みます。
こちらの方が詳しいかな。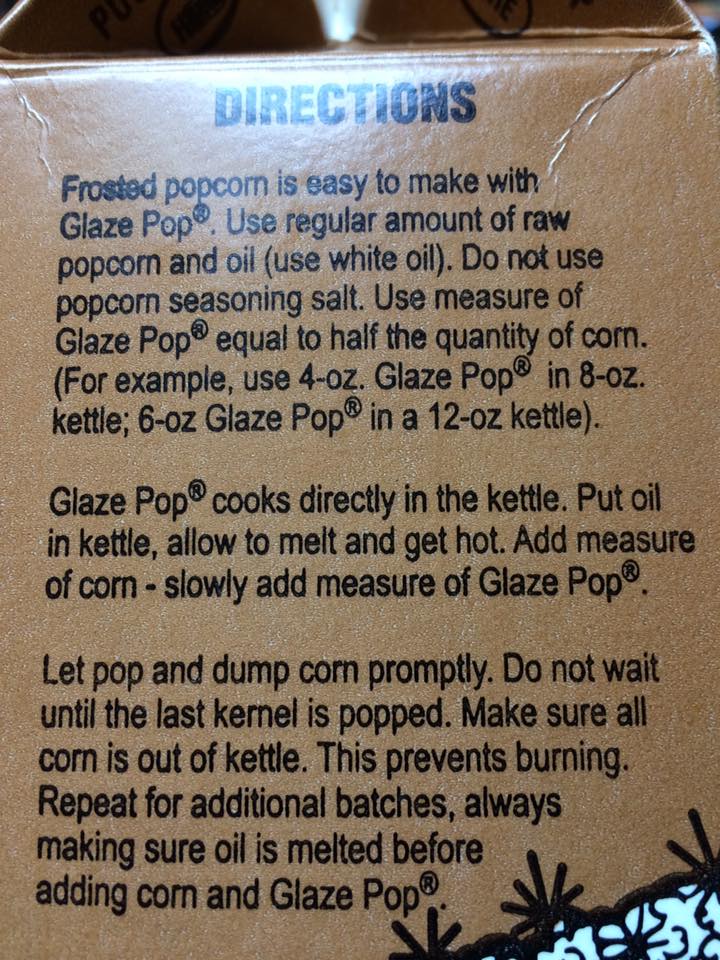 DIRECTIONS
Frosted popcorn is easy to make with Glaze Pop®;. Use regular amount of raw popcorn and oil(use white oil). Do not use popcorn seasoning salt. Use measure of Glaze Pop®; equal to half the quantity of corn.
(For example,use 4-oz. Glaze PopⓇ in 8-oz. kettle;6-oz Glaze Pop®; in a 12-oz kettle).
Glaze Pop®; cooks directly in the kettle. Put oil in kettle, allow to melt and get hot. Add measure of corn - slowly add measure of Glaze Pop®;.
Let pop and dump corn promptly. Do not wait until the last kernel is popped. Make sure all corn is out of kettle. This prevents burning.
Repeat for additional batches, always making sure oil is melted before adding corn and Glaze Pop®;.
方向
凍結したポップコーンは、GlazePop®で作るのが簡単です。 生ポップコーンと油(使用白油)の規則的な量を使ってください。 塩に味をつけているポップコーンを使わないでください。 GlazePop®がコーンの半分の量に等しい基準を使ってください。
(たとえば、GlazePop®4オンスは8オンスのヤカンで;GlazePop®6オンスは12オンスのヤカンで)。
GlazePop®は、ヤカンで直接料理します。 油をヤカンに入れてください、溶けて、熱くならせておいてください。 コーンの基準を加えてください ― ゆっくりGlazePop®の基準を加える。
ポップとして、すぐにコーンを投げおろしてください。 最後のカーネルが立ち上げられるまで、待たないでください。 すべてのコーンがヤカンの外にあることを確認してください。 これは、燃えるのを妨げます。
常に必ず油がコーンとGlazePop®を加える前に溶かされるようにして、さらなるバッチのために繰り返してください。
どうやら、一つの鍋に油を加熱しコーンとその半量のキャラメルシュガーを投入するようだ。
コメント (0)
トラックバック (0)
閲覧 (13670)
トラックバック
コメント一覧